January 30, 2011.  How a Blue Devil team missed 81% of its three point attempts.  That's a miracle.  February 10.  How #3 banked in a half-court prayer just before intermission.  That's a miracle.  February 19.  How #12 didn't step on the baseline.  That's a miracle.  March 9.  How two of the sport's highest regarded officials both failed to notice three pre-buzzer missteps by #32.  That's a miracle.
Last season was one filled with amazement and fruition.  The St. John's program experienced a clash of two eras – a transition that is still ongoing.  Steve Lavin, for whom this new blog is aptly named for (a prestigious honor indeed), was asked to take control of a seemingly uncontrollable wayward ship.  Long story short, with his own ability and that of his well-built staff, he did so.  But this year, the deemed savior will have a whole new batch of numbers to work with.  Just don't count on any miracles.  Well, not right away anyhow.
(Photo courtesy of the New York Post)
We all know what the team's experience will consist of on day number one.  Yes, that would be Malik Stith.  There isn't a word to describe St. John's as of this moment other than "youth".  Don't worry – "inexperience" comes to mind, but I'd like to think August should be a little more optimistic.  And that's what the universal feeling around the program is.  Optimistic.  Coach Lavin has reeled in a top 5 recruiting class to the Queens Campus.  As a fan base, we haven't felt this good about our team in the summer in years.  But isn't it funny how our optimism is automatically overriding the fact that we have generally no idea what to expect?
It hasn't taken long for Mr. Lavin to earn our undivided trust – and deservedly so.  He and his staff guided a team that had accumulated 17 conference victories over the previous three seasons to a remarkable 12 in just one.  Same players.  There is no cap to the excitement that is around the future of the program.  For the most part, I am not a highlight video hound.  So, for as passionate and galvanized as I am, there isn't much of these new players that I have seen.  Almost everything I know about this year's St. John's team – the team that will be taking the floor versus one of the nation's most talented young teams in Arizona in the 2k Sports Classic in November – has originated via word of mouth.  God's Gift Achiuwa's rebounding prowess, Nurideen Lindsey's scoring knack, Sir'Dominic Pointer's defensive mindset, Norvel Pelle's blocking ability, or Maurice Harkless' break-away speed – it will all be fresh and brand new.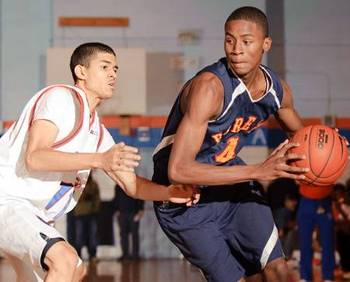 (Photo courtesy of BleacherReport.com)
                                                          (Photo courtesy of JohnnyJungle.com)
The point is that as much as we may immediately want to, we as fans shouldn't find ourselves in November and December expecting these freshmen and transfers to reel off miraculous moments or wins.  Steve Lavin has put together a group of talented, young players.  That I know for sure.  But as amazing as his work may appear, he isn't a miracle worker.  The St. John's family should know that.  This team will show signs of brilliance and signs of frustration over the first few games and most likely first few months of the season.  Heck, the vast inconsistencies may even last a full year.  There isn't any need to look to further than what John Calipari did with his Wildcats this past March.  A youthful group of players can look average for months only to perform like the nation's elite come tournament time. It takes time to both gather talent and fully harness that talent.  Step one is complete.  Step two will begin soon.
But I'm not worried.  It's a trust thing.
_____________________________________________________________________________________________________
To put it in the most modest way, I'm a Red Storm basketball fan.  These blog posts on this site will not come from the nonpartisan perspective of a sports writer or media member.  It's not me.  I grew up living and dying by this program.  It's a family thing.  It's a blood thing.  Almost every single column or blog entry that I read regarding our team, while extremely informative and significant,seems utterly indifferent.  Those writing are certainly professional, knowledgeable, and possibly even as fan-wired as me.  But there's empty space out there for a St. John's blogger who's ready to pour out the emotion that any typical (or not-so-typical) fan might feel.  I'm no English major.  I'm not looking to "wax poetic".  You're going to read what I think.  That said, there isn't a writer who covers our program that I don't admire and respect.  But we'll leave the story-breaking to them.
You can follow Quinn on Twitter – Follow @QSTJHoops